DM4600 Radio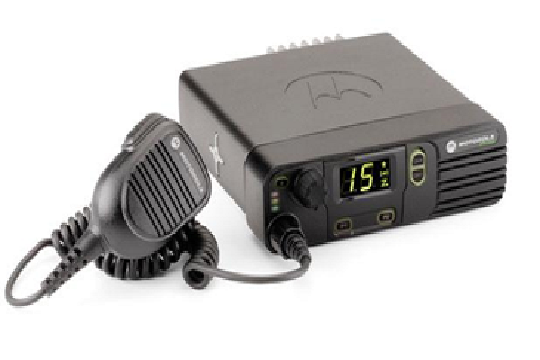 This fully-featured mobile transforms your enterprise, delivering unrivaled voice and data communications with integrated Bluetooth audio and data, integrated GPS, text messaging and a full 4-line color display with day/night mode to make reading work order tickets and text messages easier. You also get best-in-class audio that includes Intelligent Audio and a customizable voice announcement feature.
DM4000 Series radios are available with integrated GPS that enables location tracking of mobile work teams and text messaging between radios enables communication when voice isn't feasible. The large, full-colour display operates in day or night mode, for easy viewing of contact lists, text messages and work order tickets even in bright sunlight. Models are also available that feature integrated Bluetooth enabling the radio to wirelessly interface with Bluetooth-enabled devices such as barcode scanners and magnetic card readers to facilitate the collection of critical information in the field.
MOTOTRBO™ radios are connecting more people effortlessly and efficiently wherever they work and their built-in data commination capabilities making them ideal for SCADA markets when information is instantaneous and crucial. Decision-making becomes easier. Safety gets stronger. Productivity increases. Service improves and customers are more satisfied.
MOTOTRBO™ Digital Radios offer a private, standards-based solution that is cost effective and easily tailored to your organisation's unique voice and data communication needs.
Best-in-class audio
Loud front-facing speaker and Intelligent Audio feature automatically adjusts the radio volume according to the environment's noise level
Integrated GPS
Locate mobile work teams using integrated GPS (DM4601 model only)
Embedded Bluetooth audio
Enables connectivity with wireless accessories including Motorola's unique Operations Critical Wireless earpieces designed for rugged and reliable communications (DM4601 model only).[/fusion_text]
Large, full color display
Enhanced 5-line display features a flexible menu-driven interface. Icons and large easy-to-use navigation buttons ease message reading and menu navigation.
Bluetooth data
Share real-time information by connecting radios to Bluetooth-enabled data devices (DM4601 model only).
Transmit interrupt
Enables a user to interrupt another radio conversation to deliver critical communication exactly when and where it's needed.
Day/night display mode
Day mode displays improved resolution for easier viewing even in broad daylight, while night mode makes the screen easier to read in dark environments.
Productivity-enhancing data applications
Features the industry's largest application developer program to enable a wide variety of customised applications including: location tracking, work order ticket management, Bluetooth data, email gateways, dispatch, telephony and man-down.
Basic or enhanced privacy
Built-in scrambling for increased security (Programmable).
Flexible configurations and easy use
Available in UHF and VHF frequency bands with 1000 channel capacity, large, easy to access volume knob and four programmable buttons with option to use one as an emergency button.
Text messaging
Send update messages to team members when radio communications need to be delivered without interrupting workers or guests.
Uninterruptable Digital Voice & Digital Data Communication
In combination with Motorola SCADA products the radio is particularly for critical SCADA application such as electricity grid applications, water, wastewater and oil & gas distribution lines.