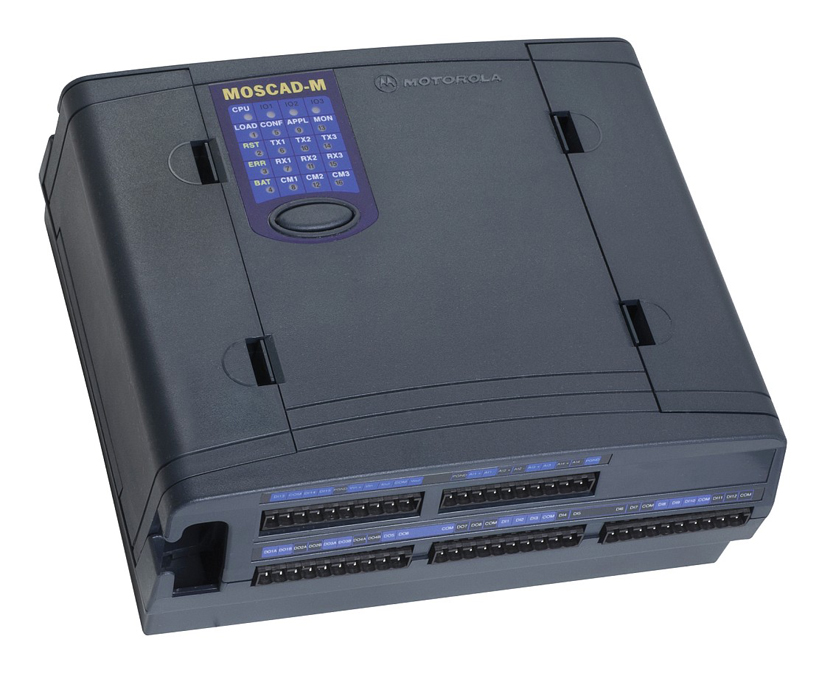 MOSCAD-M
The MOSCAD-M RTU is a member of the MOSCAD product family based on Motorola 68VZ328 (16/32 bit) CMOS processor, 33MHz clock and it's the most smallest and inexpensive RTU till ACE1000 replacement was launched in 2015. MOSCAD-M is a compact programmable wireless RTU with powerful Power Management capabilities for low power applications. As other MOSCAD members, MOSCAD-M is programmed with MicroTech compiler and MOSCAD-M 'C' Toolkit for custom application programming.
MOSCAD-M utilizes the 7 layer MDLC protocol to communicate therefore it can communicate with all Motorola RTU and FEPS such as ACE3600, ACE1000, ACE4600 and legacy MOSCAD, MOSCAD-L and IP-GW. MOSCAD-M includes RAM data & Clock/Calendar retention during power loss. It's offered in basic and expanded I/O configurations, Includes two serial ports option for a two-way radio, External wire-line modem/radio may be connected to the RTU. It can interface to smart sensors using the RS232/485 ports.
INTELLIGENT COMMUNICATIONS
The MOSCAD-M RTU like all other Motorola RTUs ultimately combines the important functionalities of low cost PLC and RTU with power management capabilities in single unit.
Available models
Basic Unit
I/O Expanded unit
External Radio
External Serial
Extended RAM for C application debugging
External Radio model
Supports Low Power External Radio
Power output (controlled)
Radio interface
Basic I/Os – 12xDI, 4xDO, 4xFET DO
Power Management for low consumption
One RS-232/RS-485 Port
One RS-232 Port
External Serial Model
Basic I/Os – 12xDI, 4xDO, 4xFET DO
Expanded I/O board- additional 3xDI, 4xAI, 1xAO
Power Management for low consumption
Two RS-232/RS-485 Ports
One RS-232 Port